Makeblock | Welcome the Next Generation of Robotics
Makeblock opens the door to the future of robotics. This open-source construction platform provides everyone (students, teachers, professionals, hobbyists, etc.) with a range of mechanical parts and electronic modules to make their ideas a reality. Whether you're a beginner or an experienced engineer, Makeblock has products to support your designs and guide you with step-by-step instructions to constructing your first robot.
Robotic Kits for the Classroom and Beyond
There's nothing like putting together your own robot for the first time. Many educators around the world are introducing students to STEM concepts through the hands-on experience of robotics. The fun of the Makeblock Robot Kits is their ability to capitalize on the students' interest in the digital world by offering them durable building blocks that demonstrate how machines and technology work together in everyday life.
With Makeblock, the lesson doesn't stop when the robot is complete. Select one of the many Makeblock kits available, follow the instructions for building your chosen design, and then decide how you are going to put it to work!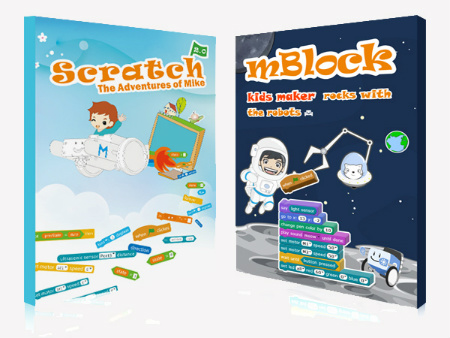 Construct your own robot with one of the many Makeblock kits available and start programming it to interact with the physical world. As an open-source platform, Makeblock is easily integrated with Arduino and Raspberry Pi. Use drag-and-drop programming languages like mBlock and Scratch 2.0 to help you get your robot moving.
Discover some of the most popular Makeblock Robot Kits for beginners!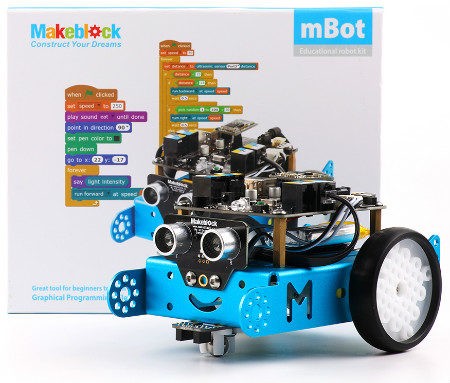 Makeblock mBot is an all-in-one solution for teaching young students about programming and robotics. This STEM education kit provides infinite possibilities for children to learn about science, technology, engineering and math. It is compatible with Scratch 2.0 programming and controlled with Bluetooth or a 2.4GHz wireless module. The mBot comes with various configurations so that young learners can experiment with different programming activities, like playing soccer, line-following, obstacle courses and more!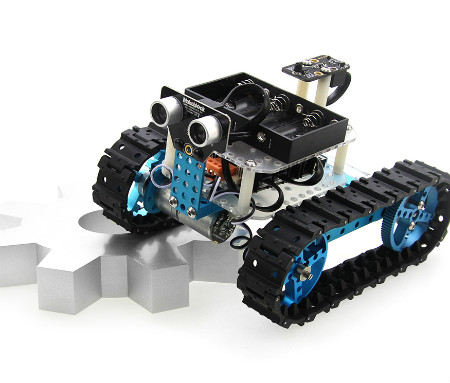 Makeblock Starter Robot Kit is the ideal kit for those interested in exploring robotics and the maker world. With a set of beginner-friendly instructions, this kit takes beginner builders through learning robotics, electronics and programming. It also allows you to build two different robots, a robot tank or the three-wheeled robot car. Get your students excited about robotics with this comprehensive robotic kit!

Take a look at more creative Makeblock robotic kits. There's a kit for makers of every experience level!
Robotic Components for the Adventurous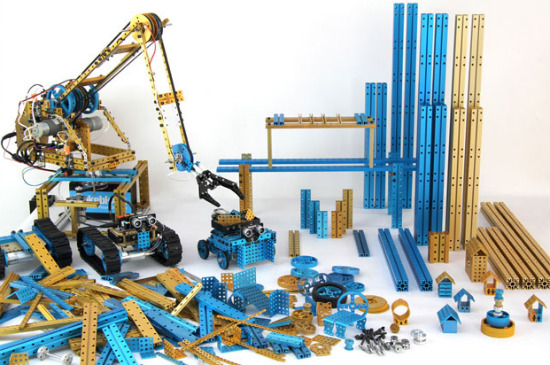 As a leader in the DIY/Maker community, Makeblock also offers innovators mechanical parts and electronic modules sold separately. This is a great option for those that are regularly creating and building their own designs, and/or educators responsible for robotic labs. These products offer a wide range of mechanical components and provide storage solutions ideal for classroom environments.

Makeblock components are available to anyone interested in making their ideas reality. Battlebot fans, engineers, skills competitors, educators and more are all using Makeblock to learn about robotics and create innovative projects. The world has been waiting for hardware solutions that match the evolving world of open-source software. Makeblock is the solution!
Learn More | Join the Makeblock Community
Like many open-source programs, Makeblock has a growing online community. Learn how to program, integrate additional features, and expand your robotic platform with help from Makeblock experts, fellow builders, educators and more.
Check out the Openlab to take a look at the latest Makeblock projects. Or visit the Makeblock Guide to get instruction on how you can implement new functionality into your robot design. Learn more about the range of robot kits and components we have available. Visit our Makeblock store or contact us to find the solution that's best for you and/or your classroom.