Learn, Teach and Earn Money $$$!!!
Show teachers how they can use fischertechnik for teaching STEM in their classroom. A great opportunity for fundraising, or just earning extra $$$!!! Learn how to become a member of the fischertechnik workshop team. There are currently two teams - STEM and Robotics.
Join the fischertechnik STEM Workshop Team
Studica is proud to announce the first installment of our fischertechnik STEM Workshop Program. Learn how you can become a fischertechnik educational ambassador! Help other teachers to become proficient in using this versatile building system for enabling students to understand how technology works, and earn money for your school, or even for yourself.
This initial workshop focuses on showing teachers, hands-on, what makes the fischertechnik building system so unique, and how they can use the fischertechnik Introduction to STEM I sets to bring STEM concepts to their elementary school classroom.
Take a look at how fischertechnik Education is used in classroom to prepare students for STEM!
The fischertechnik Introduction to STEM I set is designed for use with students in grades 2, 3, and 4. Each set comes with all the parts needed for building up to 40 different models, as well as standards-based curriculum that includes worksheets, answer sheets, rubrics, and much more. Most of the projects outlined in the curriculum are designed so that they can be easily accomplished in a standard class period. The sets are also perfect for conducting an after-school STEM focused activity.
The workshop is designed to enable all teachers from all backgrounds—science or generalists—to quickly become comfortable with using the fischertechnik system—from identifying the parts, learning how they are assembled, and building an actual model—as well as with using the curriculum and teaching materials to confidently conduct class activities using the Introduction to STEM I sets. Future workshops will focus on other fischertechnik curriculum based solutions for elementary, middle, and high school, as well as on robotics, renewable energy, and other STEM related subject areas.
Get more details about how you can get in on the ground floor of this unique teaching and fund-raising opportunity.
Robotics Enthusiasts & fischertechnik Fanatics!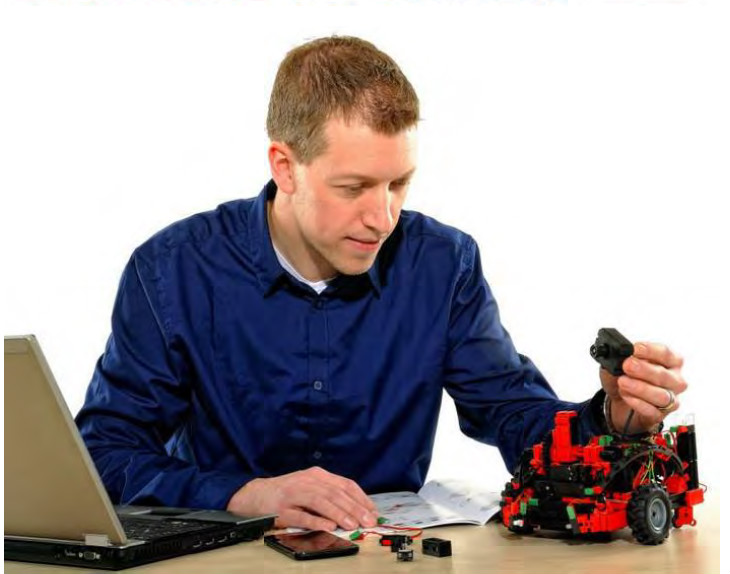 Share your passion for technology, and earn extra cash by joining the fischertechnik Workshop Team.
Do you love tinkering with sensors and actuators?
Do you enjoy creating the code that makes a robotic model come to life?
Are you an expert in building with the fischertechnik system?
If you can answer "YES" to one or more of these questions, then we want to hear from you!
We're looking for creative, passionate, and dedicated robotics enthusiasts to join our fischertechnik Workshop Team. If you have a special skill in these areas, and would like to share it with others, this is the opportunity for you. We can't do it all alone, so we're looking for workshop ideas from people just like you, who are fascinated by technology, and who enjoy sharing that passion with others. We'll provide tools to help you get started, and show you how you can earn extra money by putting together and conducting your own robotics workshops using fischertechnik products.
Robotics is no longer the wave of the future, it's a reality right now! The demand for robotics focused learning—from hobbyists to the education sector---has never been greater, and is expected to grow exponentially in the coming decade.