SREB Advanced Career|Overview
College or Career? Why not both?
Now, your school doesn't have to limit students to such a choice. Consider Advanced Career programs. High schools are challenged to prepare students for a wide array of postsecondary options. The workforce of today and tomorrow demands a higher level of skill — workers who grasp complexity, understand technology and troubleshoot problems.
That's where the Advanced Career (AC) program, part of the Southern Regional Education Board's (SREB) High Schools That Work initiative, shines. Advanced Career fuses a rigorous and relevant blend of technical and academic skills in authentic projects. AC courses give students a greater depth of knowledge and skills — and prepare them for more options after they graduate.
Advanced Career: How it works
Advanced Career combines college-ready core academic content with hands-on, project-based assignments – centered around a defined career focus, such as aerospace engineering, informatics, advanced manufacturing and clean energy technology. Students who enroll in the AC program graduate high school better prepared to start a high-value job and/or go to college, community college or a technical school.
Advanced Career provides participating high schools with:
ready-to-implement AC course work for students
comprehensive training for teachers
access to tools and technology for project-based learning, and
end-of-course assessments.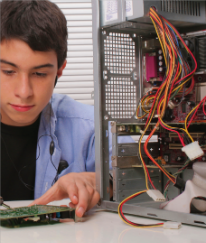 The program is offered through yearlong or semester classes, each of which explores a different facet of a high-skill industry. So students become immersed in career areas such as health informatics and global logistics, depending on the AC career pathway your school or system chooses to offer.
Because Advanced Career draws from the academic core; employs a range of technologies and software; focuses on high-skill careers; and uses work-related projects to develop problemsolving skills, it challenges students more than traditional career-technical programs. Best of all, the program is available to any and all students.
Key Facts About SREB Advanced Career
Advanced Career is currently offered or being developed in partnership with SREB in nine states: Alabama, Arkansas, Kansas, Kentucky, New Jersey, North Carolina, Ohio, South Carolina and West Virginia.

Each AC pathway consists of four courses that emphasize state standards for college preparation.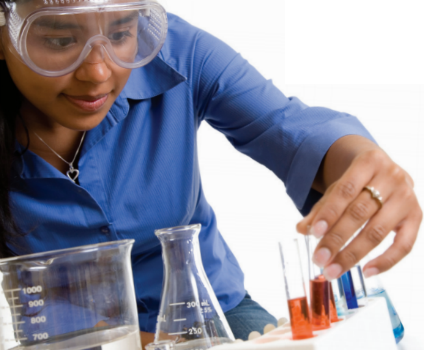 Five AC pathways and curricula are ready for your school or system to adopt right now:

Clean Energy Technology
Energy and Power
Health Informatics
Innovations in Science and Technology
Integrated Production Technologies


One other high-demand AC pathway/curriculum – Advanced Manufacturing – will be ready for field-testing in Kentucky and other states in fall 2014.
What Does AC Cost?
The annual cost to implement Advanced Career in a high school is significantly less than six figures. The exact amount depends on the career focus and the technology required to teach it.
After consulting with a school or system, SREB provides a clear and reliable estimate of the cost to cover training for teachers, technology and tools for student projects, and student assessment instruments and applications. As for the AC curriculum itself, it's provided at no cost to partner states.
Bring Advanced Career to Your School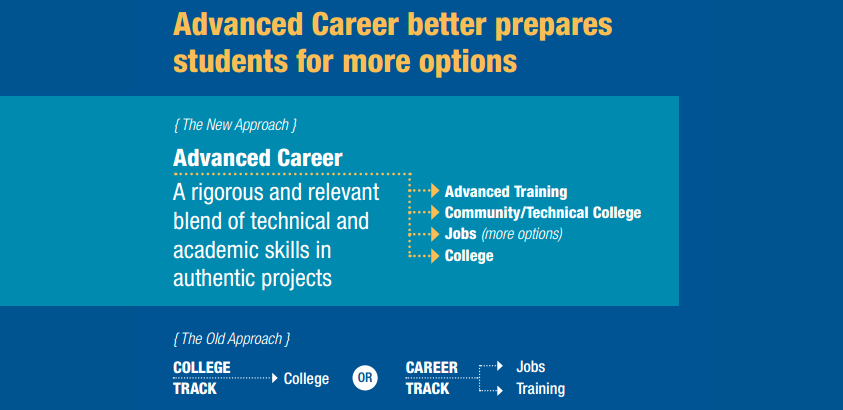 SREB's High Schools That Work professionals are happy to talk with you about Advanced Career.
E-mail Zach Riffell at zach.riffell@sreb.org or You can also visit SREB.org/AC.
*Content and images provided by SREB.org/AC