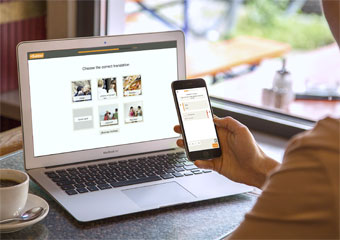 Enhance your student's language skills with Babbel the most intuitive language learning app in the world. Developed based on a world-class didactic method, experts took the most effective educational strategies and combined them with state-of-the-art technology, creating a powerful curriculum that perfectly supports classroom instruction.
Students build real-life conversation skills using specifically crafted lessons created by language experts voiced by native speakers. Babbel teaches reading, writing, listening, and speaking in short 10-15 minute lessons. Interactive dialogue and speech recognition technology improve pronunciation and student confidence. Relevant content and review sessions reinforce what they have learned in the classroom.
With 10,000 hours of content in 14 languages, the Babbel app offers educators an innovative, engaging, and effective tool to advance student language proficiency. The comprehensive Admin Portal makes it easy to manage access, transfer licenses, monitor progress, and generate reports.
Available Languages:

Babbel Professional for Education can be used for:
High Schools
School Districts
Higher Education Institutions
Note: Not for students under the age of 13.