Studica Celebrates 30 Years in Business
Studica Celebrates 30 Years in Business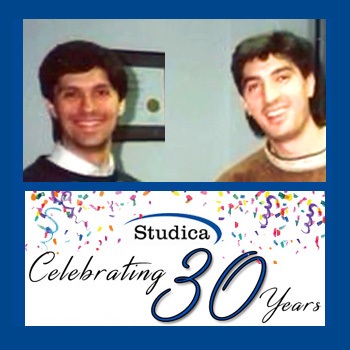 October 15, 2015 Sanborn, New York – Studica is celebrating its 30th year in business. Co-founders Frank Nanfara and Tony Uccello began the company because they recognized a need to bring CAD/CAM/CNC and more recently STEM technology to students and schools. They understood that education and technology are intertwined. They observed that the academic market needed assistance selecting and integrating technology into their classrooms. Guided by their vision along with the help of loyal customers, wonderful partners, and dedicated employees, Studica has proven to be successful for three decades and continues to strive to fulfill its purpose.
"We are grateful to our loyal customers, employees and partners for the success Studica has been able to achieve. We are proud to be on the forefront of technology and our ability to offer affordable technology solutions to students and schools. As technology continues to change and revolutionize our world, our mission will remain to equally revolutionize education."

– Frank Nanfara, Studica President & CEO
Studica has grown from a small company offering education products in the United States and Canada to company that has offices in several different countries around the globe. Studica offers high quality solutions for STEM Education, Robotics, Coding & Programming, 3D Printing, CAD/CAM/CNC, Game Development, Animation and much more. We encourage you to learn more about this academic focused company by visiting www.studica.com.
About Studica
Studica is the leading supplier of software, robotics and a variety of STEM education and technology products at significant discounts to students, teachers, faculty, schools, and industry. Serving local and global education markets for 30 years, Studica has offices around the world. Studica.com offers relevant education solutions for STEM education, Robotics, CAD/CAM, Game Development, Programming, Design and more. In addition, it offers a wide range of products such as visualization, mechanical design software, 3D printers, DIY Robotics, Arduino, Raspberry Pi, Electronic hardware and much more.