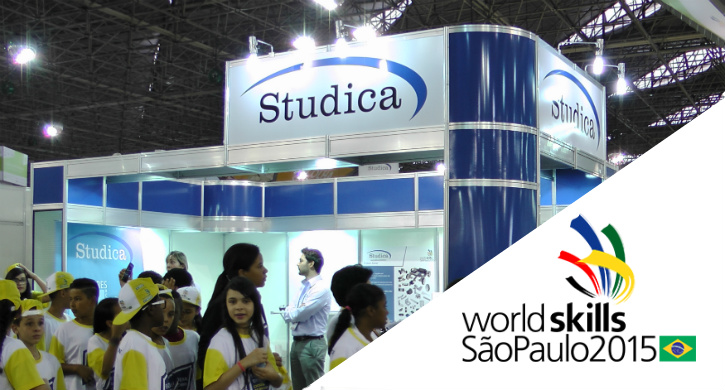 August 14, 2015 São Paulo, Brazil – The WorldSkills Mobile Robotics Competition is underway. This skill competition focuses on this fast evolving discipline that has applications in many industries ranging from aerospace to agriculture. At WorldSkills, Studica is on site to assist teams technically. Studica representatives are providing spare parts for components that require replacement and providing support for software, sensors and controllers. Studica is thrilled to be a Silver Sponsor and supplier as part of their commitment to help promote improvement in STEM skills worldwide, such as mobile robotics. This event is an ideal arena to illustrate how STEM skills affect real world industry.

Studica plays an important role in the promotion of STEM education by providing organizations, like WorldSkills, with the latest technology and resources available. The official WorldSkills Mobile Robotics Component Collection, supplied by Studica, provides the necessary components to aid in designing, building and programming each team's robotic designs for the competition. Studica also offers the fischertechnik Robotics Competition Lab that is specifically designed to allow schools to develop or enhance mobile robotics programs for their students. Studica is a leading supplier and manufacturer of robots, robotics parts, kits and robot-electronics. If you are looking for robotics components, sets or comprehensive packages, Studica's Robot Zone provides a wide array of DIY Robotics solutions.
STEM success starts at Studica. In addition to robotics, Studica offers many other solutions that promote various STEM disciplines. From elementary school through middle school, high school, higher education and industry – Studica offers a variety of experience appropriate, STEM education solutions. For instance, fischertechnik Education Introduction to STEM sets are specifically designed to help elementary students begin their STEM journey. They teach key concepts such as simple machines, energy and motion, and provide introductions to technology and robotics. Creative solutions that teach students about programming are made available from FUZE, Wonder Workshop and others. Other STEM programs focus on Energy, Power, Robotics and Mechatronics. The array of solutions covers all levels, including industrial training and simulation.
About Studica
Studica is the leading supplier of software, robotics and a variety of STEM education and technology products at significant discounts to students, teachers, faculty, schools, and industry. Serving local and global education markets for 30 years, Studica has offices around the world with more planned in the near future. Studica.com offers relevant education solutions for STEM education, game development/design programs and more. In addition, it offers a wide range of products such as visualization, mechanical design software, 3D printers, DIY Robotics, Arduino, Raspberry Pi, Electronic hardware and much more.
About WorldSkills
Founded in 1950, WorldSkills is a global organization that promotes vocational, technological and service oriented education and training. We promote skilled careers in 72 Member countries and regions, all working with youth, educators, governments, and industries to help prepare the workforce and talent of today for the jobs of the future. WorldSkills is making a direct impact on raising the level of skills throughout the world.