fischertechnik STEM Sets: Focus on Standards
fischertechnik Education provides students and educators with the classroom solutions they need to inspire STEM curriculum that is engaging and effective. The fischertechnik STEM PREP and STEM Engineering sets are designed to offer schools an ideal integration of project-based learning and standards-based curricula. Each set encourages inquiry, design and problem solving thanks to the unique and versatile fischertechnik building system.
STEM PREP | Explore Essential STEM Concepts
The fischertechnik Education STEM PREP set focuses on physics, robotics, energy and power. It encourages students to explore key aspects of technology through activities that include cross-curricular material. Follow a series of step-by-step instructions for delving into nine different STEM topics, including:
Sketching and Documentation
Simple Machines
Mechanical Systems
Structures
Conversion and Storage of Energy
Electronics
Optics
Digital Communication
Programming Control Systems
Take a look at the Bike Brake Project video to get an idea of how the STEM PREP curriculum works in an actual classroom!
The STEM PREP curriculum, included in each set, is designed to help students understand the relationship of the subjects they study. Tasks are supported with documentation that invite students to record their sketches, notes, research reports, data analysis and any significant findings in the construction of their final models. In doing so, each topic is also connected to subjects outside of science, technology, engineering and math (STEM) - such as language arts, history, drawing and more.
This project-based learning set supports a meaningful exploration of STEM concepts. It allows groups of students to develop their own solutions with the guidance of carefully thought out instructions. Answer those questions, "Why do I need to know this?" and "Where will I ever use this?" with a comprehensive STEM program built for the classroom and infused with real world applications.
STEM Engineering | Evaluating the Build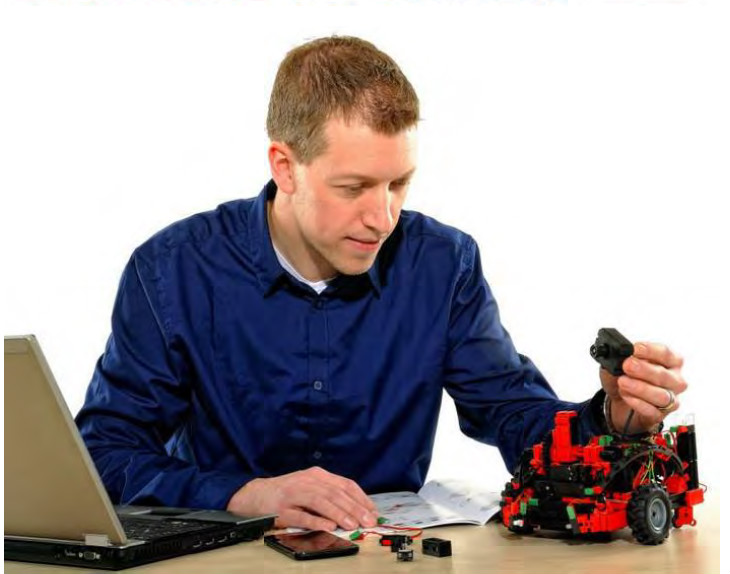 The fischertechnik Education STEM Engineering set is centered on the design and construction of automated systems. It inspires students to get involved in robotics, coding and computational logic. This set includes all of the components necessary to build 22 different models. Its corresponding curriculum contains detailed, standards-focused activities that address the following STEM topics:
Sketching and Documentation
Basic Electricity
Programming
Sensing and Vision Systems
Mobile Robotics Actuators
Fundamentals of Automation and Robotics
Select from over 30 different activities designed to help your students make real world connections to important engineering principles. Similar to the STEM PREP set, STEM Engineering approaches each model with a project-based technique. Students are asked to document their construction process in various ways during the lesson. In doing so, they complete a cross-curricular examination of the topic that ties into subjects like language arts, drawing, science, math and many more.
Take your STEM curriculum to a more interactive level by guiding students to reach their own conclusions in a project-based environment. Using the STEM Engineering set, educators and students are supported with standards-based curriculum, while also experiencing the freedom to experiment with materials.
What is Standards-based Curriculum?
Both the STEM PREP and the STEM Engineering Sets offer a comprehensive, standard-based curriculum. It sounds good, but what does that actually mean? What standards are these curricula based on?
The STEM PREP and STEM Engineering Sets were specifically developed to address the most current academic standards. Each program was created by noted STEM educator, Tom White, to align with a variety of recognized standards. In being able to adhere to multiple programs, these sets can be adopted across different school districts and classrooms, while still meeting state academic requirements.
These curricula meet the following standards:
College and Career Readiness Standards - for Math, Science, Reading and Writing
NSES Content Standards
Standards for Technological Literacy
ISTE Standards
Next Generation Science Standards