Architectural Visualization Software

Lumion transforms every architect into an expert at rendering design visualizations. 61 of the top 100 architectural firms use Lumion to create professional images and flythrough videos. Reimagine your workflow as an incredibly powerful and intuitive interface guides you through bringing your designs to life and highlighting your unique vision.
Affordable Solution for Visualizations that Win Business
Lumion is the ultimate solution to help you create architectural visualizations without any required training in specialized software. Don't stress over complex CAD software, or the need to piece together models for your next presentation. Lumion takes care of everything from design conception to final presentation. Win business and new clients with the best in architectural design software.
Powerful and Easy to Master
With tutorials available and an entire online community, it is easy to become an expert. Lumion is easy to use and fast. It's so simple you can start using the program as soon as you get it.
Established architects use Lumion to complete projects ranging from landscaping, urban planning, construction, engineering and so much more. View the Lumion Showcase to find some examples of end results.
Fast, Accurate and Effective
Images can render in under 30 seconds. Use your own models, create the scene and walk-through your designs. You'll be amazed at how you can showcase your work.
CAD software is offering designers new and different ways to view architecture. The MyLumion platform is under development to bring your designs to the cloud - helping you create, share and store your work on the go or in the office. Discover how Lumion's cutting-edge features can help you realize your designs and inspire new ideas.
Lumion is for Everyone
"As an experienced Revit user, I can tell you to try Lumion. I created an animation in 3 hours where Revit took 2 days for a lesser quality. Revit is great but it is too slow for walk-throughs." - Carlos Santiago (Architect, dedicated Lumion user)
Like Carlos, many Lumion users choose the program thanks to its ability to increase productivity and integrate seamlessly into your current workflow. Whether you're a professional architect, an entire architecture firm, or a student just starting out - Lumion offers you tools that will help you master your project.
Here are just a few benefits that Lumion users have noticed right away:
Lumion works in real-time, allowing you to explore ideas and design revisions faster
You can render videos and walkthroughs in minutes - not weeks
Lumion offers unbeatable interoperability (compatible with SketchUp, Autodesk Revit, Archicad, Vectorworks, Rhino and more!)
A Look at Some Lumion Features
Lumion is packed full of innovative features developed to offer the best tools in architectural visualization. Take a look at just some of the ones that set it apart from other programs.
Intuitive Interface - This easy-to-use program will allow you to master rendering your perfect design visualization
Massive Content Library - Making your design realistic starts with having the proper content throughout your scene. The content library has thousands of models, including plants, trees, people, automobiles, etc.
Real-time Editing - See changes as you make them to foliage, materials, models, etc.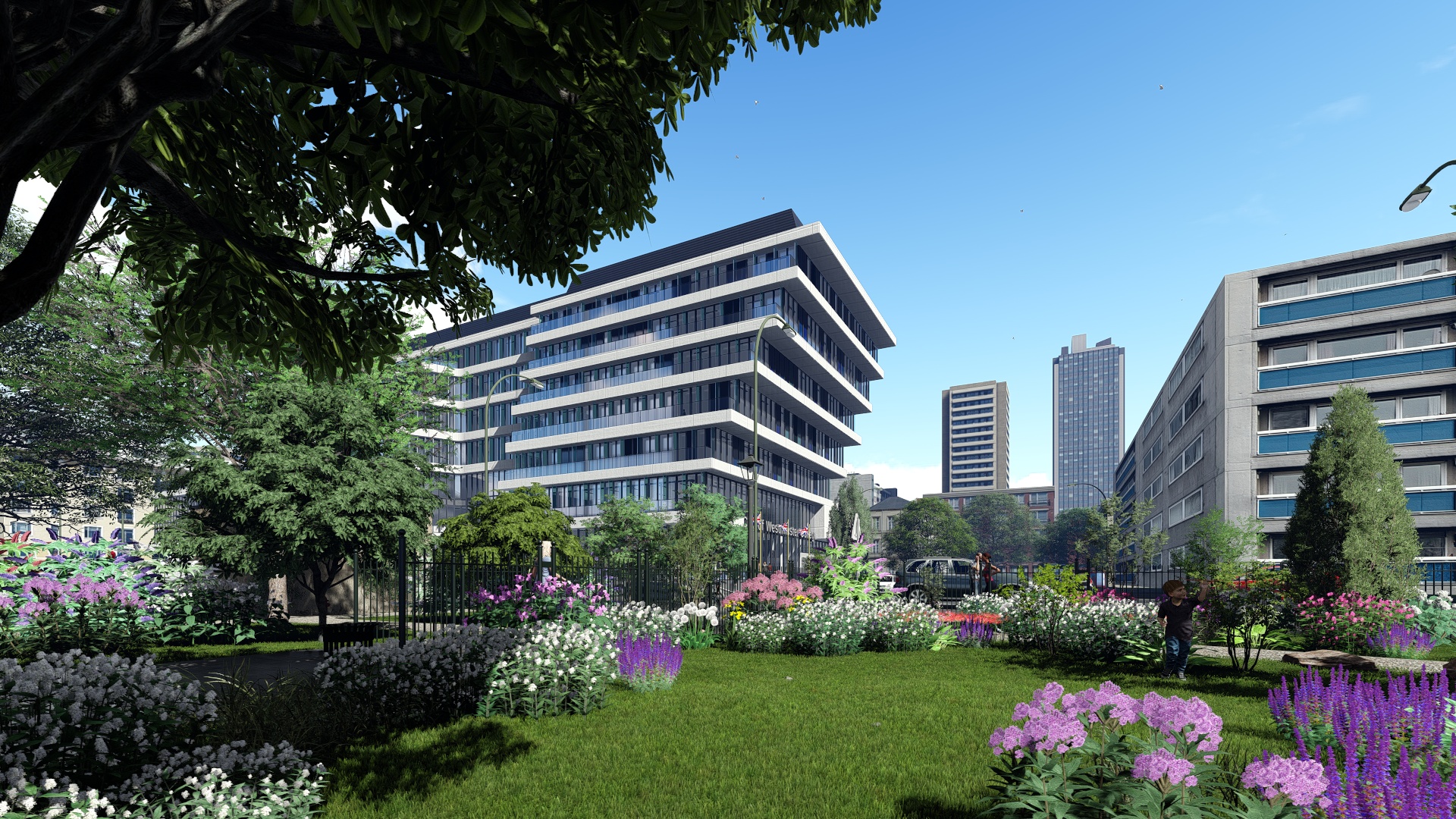 A Variety of Effects - Lumion provides a range of effects to help you get the detailed look you want
To learn more about the latest features Lumion offers and purchase a license today, visit our Lumion page.